Awards and Recognition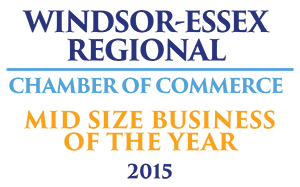 Amy's Helping Hands ~ Winner of the 2015 Mid Size Business of the Year Award
Thank-you to the Windsor-Essex Chamber and BEA judges for awarding us with this honour! We are so thrilled to accept the Windsor-Essex Chamber of Commerce 2015 Business Excellence Award for Mid-Size Business of the Year on behalf of our clients, administrative staff and wonderful, caring caregivers!
We are so proud of all the accomplishments of our caregiving and administrative staff that have collectively contributed to the overall success of the company and allowed us to consistently provide high-quality care for those in need in our community.

We are so fortunate to witness daily examples of how our caregivers all in their own way, go above and beyond the call of duty to ensure the comfort, satisfaction and safety of our clients. Holding a client's hand while they take their last breath, making them a special meal, accompanying them to a special event to allow them to celebrate with their family and simply offering caring companionship or a shoulder to cry on is truly remarkable!
We are truly humbled and appreciative of this recognition!
"I've always said we have one of the best business communities in the country, made up of great entrepreneurs, people who are resilient and very smart," said Matt Marchand, chamber president and CEO. "That entrepreneurial spirit is to be celebrated."
Finalists were honoured for promoting the region and enhancing its prosperity, said Marchand. "It's amazing to see these people in action. It makes you proud to be from Windsor-Essex."
As she addressed the audience, Carolyn Brown, chamber chair, said the awards represent the past, present and future of Windsor's economy. "Stamina is the secret of staying in business," said Brown, corporate leader of transportation service and CEO of Your Quick Getaway and Detroit-Windsor Tunnel Corp. "It's about surviving the ebb and flow of challenging times."
Calling her business "a labour of love," Amy Szewczuk's of Amy's Helping Hands — a personalized home-care service for the elderly and disabled — won the mid-sized business category.
"Caregivers are the heart and soul of our company," said Szewczuk. "And we will continue to help people as long as people need help."
Since its inception in 2009, Amy's Helping Hands has grown to provide customized care for more than 1,400 clients in Windsor and Essex County.
Amy's Helping Hands has been recognized in the Windsor and Essex community as a leader in senior care. We have received the following recognition over the years: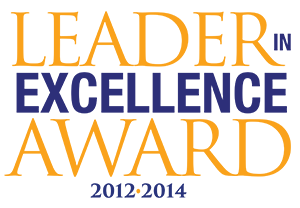 2012 & 2014 - Leader In Excellence
Amy's Helping Hands announced that it received this year's distinguished "Leader in Excellence" Award by Home Care Pulse, the leading firm in quality assurance for private duty home care. The "Leader in Excellence" Award was awarded to 16 out of over 400 private duty home care agencies across North America, who consistently ranked among the highest in 10 or more out of 12 quality metrics assessed by Home Care Pulse. As a "Leader in Excellence," Amy's Helping Hands achieved this metric in all 12 categories which represents a top performer in the home care industry.
This accomplishment also shows Amy's Helping Hands long-term dedication to excellent care and quality improvement. To qualify for this award, 10% of Amy's Helping Hands' clients are polled each month by Home Care Pulse to rate the care they received through personal phone interviews. These client satisfaction ratings were factored into Amy's Helping Hands overall ranking over a 12-month period. Using feedback from clients and employees, as well as quality benchmarks from Home Care Pulse, the Amy's Helping Hands management team set goals to reach the highest level of excellence possible.
2011 - New Business of the Year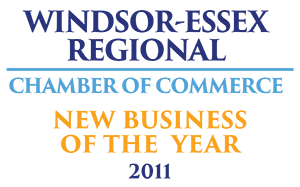 Windsor Essex Chamber of Commerce New Business of the Year 2011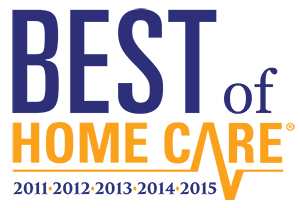 2011 to 2015 - Best of Home Care
Amy's Helping Hands in June 2011 was awarded "Best In Homecare" by Home Care Pulse. This award was in recognition for being in the top quartile ranking in customer satisfaction surveys benchmarked against 300 home care companies across North America. This award was achieved in all 13 categories, an achievement only attained by 2% of companies involved.
The 13 categories that Amy's Helping Hands achieved the distinction of being in the top quartile in terms of customer satisfaction surveys include the following:
Overall Quality of Service

Caregiver's Work Ethic

Caregiver's Timeliness

Caregiver's Training & Knowledge

Caregiver's Compassion

Caregiver's Appropriate Appearance

Confidence Level in Agency Management

Effective Communication from Agency

Agency's Response to Problems

Receiving the Service as Promised

Recommend Agency to Others

Coordination of Caregiver's Schedule

Overall Combined Average
December 2010 ~ International Caregiver Award:
One of Amy's Helping Hands employees in December 2010 was awarded caregiver of the season by "The Senior's Choice" which is a NON FRANCHISE network of home care companies. She was selected out of 250 companies and 20,000 caregivers across North America.